The Invisible War – Living in Victory Over the Enemy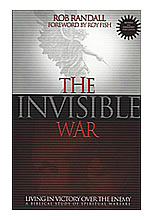 Dr. Rob Randall
Paperback 320 pg 6×9
Item Price: $24.99
ISBN No. 978-0-9725719-0-6
Free US Shipping
Dr. Rob Randall has written a thorough exposure of the enemy and his tactics with emphasis on the Christian's armor. Provides a number of specific prayers which parry various attacks of the enemy. A prayer based approach to true revival.
Tags: Bible based treatment, Christian life, living in victory
Related Books:
The Divided Soul | Lies That Kill
Important Instructions:
When you click the "Buy Now" button to purchase a book you will be taken to PayPal's secure website for checkout. You DO NOT need a PayPal account to pay with your credit card. PayPal will invite you to open an account, but at every point there will be a "Not now" or another way to proceed without opening an account.
PayPal requires two items of personal information to complete your order:
Your email address. This is so they can send you a receipt for your purchase. Coad Word Books does not retain this information past the fulfillment of your order. No one will send you advertising or any kind of follow up email. If you do not wish to submit your real email address, please use "books@coadwordbooks.com". Our office will print out your receipt and include it with your book shipment.
Your telephone number. This is required in case there are any issues with shipping your order. Your phone number will allow us to contact you to resolve any issues. Again, this information is not retained beyond fulfillment of your order.
If you do not wish to order online, CLICK HERE for instructions to order offline.