Norman L. Coad, D.Min., has spent more than 25 years working with persons affected by Dissociative Identity Disorder (DID), also called Multiple Personality Disorder or Split Personality Disorder. Over this time he has developed a unique approach to therapy that has enabled many patients to live functional, productive lives.
Since Dr. Coad's client load consistently remains at capacity he is not able to take any new clients. In order for his work to benefit as many people as possible, therefore, he has written a book called The Divided Soul – A Biblical, Theological & Psychological Approach to Therapy and Healing of Dissociative Identity Disorder.
The target groups of the book (and articles on this web site) are:
Professional therapists who specialize in treating DID, and
People who wish to practice what the Christians did in the first three centuries of Christianity.
Those who are affected by DID, or believe they, or a loved one suffers from the disorder, may also benefit from reading the book and sharing it with their family and their therapist.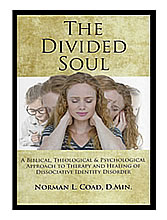 On this site you will find a series of articles Dr. Coad has written that supplement (not duplicate) the information contained in his book. We hope that you will find them useful in determining:
Whether Dr. Coad's book describing his treatment philosophy and methods would be helpful to you in your practice, and
Whether you or a loved one might be affected by DID and need to seek treatment.
Later this year a video series will be added to the articles.
In addition, you will find our Book Store where you can purchase Dr. Coad's book and two other books by an esteemed colleague, Dr. Bob Randall.
If you have any questions we can help you with, please Contact Us. We'd love to hear from you.
Save